Ordering
Should an item be temporarily out of stock, we will contact you to let you know when it will be available so you can decide what you would like to do. You are welcome to cancel your order at any time. All products are subject to availability.
Security
Our secure server software fully encrypts all your personal information including your credit/debit card number and your name and address, so that you can shop with us with total confidence.
Tax
All prices quoted include VAT at 20%.
Returns
PLEASE NOTE:- You will need to contact us for a Returns Authorisation Number (RAN) before sending items back.
If you are not satisfied with any products you buy for any reason, please return them in the condition you recieved them to us within 7 days for a full refund (excluding P&P) or exchange. Please note that when sending a return, the parcel is your responsibility until it reaches us. We therefore suggest that any returns are sent via a delivery method that offers insurance to the value of the item being returned. Remember to enclose your name, address, telephone number with your parcel when returning goods. All refunds will be made in UK Pounds Sterling after the product(s) has/have been returned. Send any returns to: Returns, Hilton Photographic, 25 Paragon Street, Hull, East Yorkshire, HU1 3NA, England.
WEEE Regulations:
The Waste Electrical and Electronic Equipment (or WEEE) Regulations are now U.K. law. All European member States including the U.K. have agreed to reduce the amount of WEEE that is being disposed of in landfill sites.
It is important that the amount of WEEE sent to landfill sites is reduced because:
Some WEEE can be re-used or recycled. The amount of landfill space available in the UK is decreasing. If we can keep WEEE out of landfill sites it means there is more landfill space available for non-recyclable waste.
WEEE can contain hazardous substances. When left in landfill sites the hazardous substances in WEEE can pollute soil and contaminate water supplies. This contamination can damage human health and the environment.
Distributors of new Electric and Electronic Equipment (or EEE) have a part to play in reducing the amount of WEEE going into landfill sites.
Hilton Photographic are "doing our bit" under these regulations by offering our customers free take-back of their WEEE on a like-for-like basis when they buy a new Electrical or Electronic product.
For example, if a customer bought a new Digital Camera from us we would accept their old Digital Camera and prevent it going into a landfill site by disposing of it safely. Customers must return their WEEE item to us within 28 days of purchasing their new item. Customers do not have to pay for the transportation of their WEEE to our premises, if making a purchase from our Website.
If you wish to return your WEEE item, please contact us at the telephone number / E-mail address below:
Tel:- 01482 325223
Under the WEEE Regulations, all new electrical goods should now be marked with the crossed-out wheeled bin symbol shown below: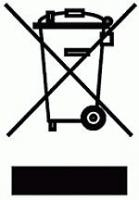 Goods are marked with this symbol to show that they were produced after 13th August 2005, and should be disposed of separately from normal household waste.
Waste Batteries:
Under the Waste Battery Regulations, Hilton Photographic are now offering a take back scheme for all portable waste batteries.
Waste batteries may be brought in person to our high street shop at 25 Paragon Street, Hull, HU1 3NA (Please Do Not Post Batteries).
Alternatively, you can find your local waste portable recycling facility at www.recyclenow.com
Most supermarkets and shops that sell batteries will have collection bins for used batteries, and some town halls, libraries or schools may also set up collection points. End users may find stores in their local area more accessible.